Edmonton Massage Therapy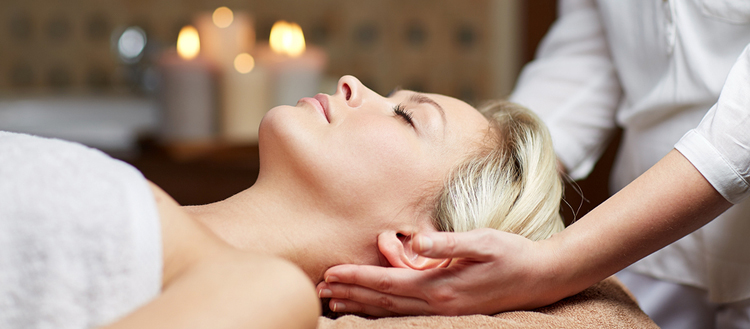 Registered Massage Therapy in South Edmonton
With the care and expertise you expect from a Registered Massage Therapist (RMT) and the excellence of service you expect from a spa, a massage at River Stone Massage and Wellness Centre offers you the best of both worlds. Fleece-lined heated hydraulic tables, dim lights and soft music help you to relax completely. Each massage is customized to your preference and needs. Your RMT is skilled at working with a variety of treatment depths from featherlight relaxation to intense deep tissue and will use a variety of pressures, techniques, and modalities for your benefit. These treatment modalities may include (but are not limited to) Swedish Massage, myofascial release, trigger point therapy  and reflexology.
Our Services
Therapeutic Relaxation Massage Therapy
Our classic massage is one that aids in relaxation and stress reduction, eases sore muscles, and works out stored tension in problem areas such as neck or lower back. At your request, therapists will focus on areas of particularly bad pain or tension to assist in relaxation and improvement of your well-being.
30, 45, 60, 75 and 90 Minute Treatment Sessions
Deep Tissue Massage Therapy
Deep tissue massage uses a variety of techniques to reach deep layers of muscle and fascia (the connective tissue surrounding muscles). If you have chronic aches and pains and areas of tight muscles such as in the neck, shoulders or back, a deep tissue massage is an excellent choice. Our RMTs can physically break down adhesions and scar tissue that causes pain, inflammation, disruptions in circulation and reductions in range of motion. A deep tissue massage is not just a relaxation massage with deeper pressure. In a deep tissue massage you may expect joint work, stretching, fascial releasing, static compression and deep pressure. At the beginning of the massage, lighter pressure is generally applied to warm up and prep the muscles.
45, 60, 75 and 90 Minute Treatment Sessions
Hot Stone Massage Therapy
A full body massage enhanced by the use of hot stones is the ideal way to achieve deep relaxation as well as therapeutic relief of muscle tightness and adhesions. The heat and pressure from the stones results in deep and lasting relaxation. Not recommended for heat-sensitive guests.
60, 75 and 90 Minute Treatment Sessions
Pre/Post-Natal Massage
River Stone massage therapists attentively tailor your treatment to your changing needs and body both during and after your pregnancy. These massages are performed with the utmost care for you and your baby's health and safety. Our maternity pillow allows you to lay face down comfortably and our hydraulic tables can be lowered for your safety.
45, 60, 75 and 90 Minute Treatment Session
Seniors (Over 65) Massage
For seniors, massage is critically important in maintaining health and wellness. Massage can help reduce stress, relieve anxiety, and reduce muscle aches and pains. Our hydraulic tables are easily lowered to allow you to get ready for your massage with minimal effort and maximum comfort. Special care will be taken to review your medical history and medications.
45 and 60 Minute Treatment Sessions
Youth Massage
Massage is a wonderful stress-buster for kids and teens! River Stone massage therapists will customize the treatment for your child depending on the their needs. Potential benefits of massage for children can include: behaviour and mood improvements, stress reduction, increased relaxation, better sleep, and an increased immune response.
(All new clients under age 18 require completion of our "Parent or Legal Guardian's Consent to Treat a Minor" Form. Children 12 & under must have a parent/guardian available on site during the treatment and they are welcome, but not required, to stay in the treatment room with their child throughout the massage. Parents/guardians are also welcome to relax in our comfortable reception area if they prefer.)
30, 45 and 60 Minute Youth Relaxation and/or Young Athlete Massage
Gratuities
Although never required, a gratuity in any amount is a wonderful way to acknowledge exceptional service from your RMT.