Edmonton Couples Massage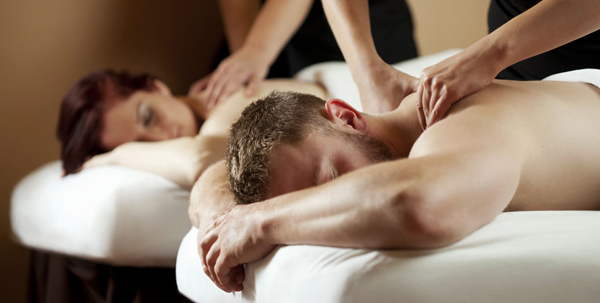 Are you looking to enjoy your massage treatment side-by-side with a partner, friend, or family member?
At River Stone Wellness Centre, we have a spacious and comfortable couples treatment room available and Registered Massage Therapists (RMTs) who will provide you the same excellent service you'd expect from an individual treatment!
Enjoy the Same Services or Blend Treatments
For all of our couples massage treatments, the same length of service must be booked by both parties. However, a blend of service combinations is available.
Deep Tissue for him and Pre-Natal massage for her? Great idea! Two 90-minute treatments, one deep tissue and one hot stone? Sounds terrific!
You can enjoy individualized treatment for your unique needs while in the company of a friend, sibling, or partner.
Therapeutic Massage for Couples
Our RMT is skilled at working with a variety of therapeutic massage techniques using a variety of pressures and modalities for your benefit.
River Stone Wellness Centre offers the following therapeutic massage treatments:
Relaxation Massage Therapy
If you're looking to relax and ease your sore muscles, relaxation massage therapy is perfect for working out stored tension in problems areas such as your neck or lower back as well as relieving you of everyday stress.
Deep Tissue Massage Therapy
Using a variety of techniques, deep tissue massage reaches the deep layers of your muscles and fascia (the connective tissue surrounding the muscles) to address chronic aches and pains.
Deep tissue massage can physically break down adhesions and scar tissues that cause pain, inflammation, disruptions in circulation, and reductions in your range of motion.
Hot Stone Massage Therapy
A full body massage with hot stones is an ideal way to achieve deep relaxation as well as find relief from muscle tightness and adhesions. The heat and pressure from the stone will lull you and into deep and lasting relaxation.
However, this form of massage therapy is not recommended for heat-sensitive guests.
Pre/Post-Natal Massage
At River Stone Wellness Centre, we can tailor your treatment to your changing needs both during and after your pregnancy. If you are expecting a little one, or have already given birth, have your partner join you for a comfortable and relaxing pre/post-natal massage.
Seniors Massage (Over 65)
Massage is critically important for seniors when it comes to maintaining health and wellness. It can help reduce stress, relieve anxiety, and reduce muscle aches and pains. Our trained RMTs will accommodate maximum comfort for our senior guests.
Youth Massage
Why not spend some quality time with your child by having them join you for a relaxing massage? River Stone Wellness Centre's RMTs can customize your child's massage treatment to focus on behavior and mood improvements, stress reduction, increased relaxation, better sleep, and increased immune response.
Book Your Edmonton Couples Massage Treatment Today!
If you are ready to book your Couples Massage, please contact River Stone Wellness Centre by phone at 780-705-2445 or by email at book@riverstonewellness.ca.
Please note that you will be undressing and preparing for your treatment in the room together.
We look forward to meeting you!
Online bookings are not available for Couples Massage appointments and all massages require a valid credit card number to secure your reservation (your card will not be charged – this is for confirmation purposes only). Please see our Cancellation Policy for further details.